XR Godalming Update 30th June
June 30, 2020

At the meeting on Wednesday, we wondered whether all rebels are adequately aware of when and how meetings are taking place. This, not least, because information about the next meeting comes right at the end of the newsletter. So, to aim to put this right, the order of information is now reversed.
WHAT'S COMING UP
Wednesday 1 July – regular meeting.
Zoom link is: https://us02web.zoom.us/j/89593248966

Meeting ID: 895 9324 8966
Topics for discussion are likely to be as follows:
We may have news about the next rebellion date. Even if not, we need to start talking about preparation for actions, such as non-violent direct action training, affinity groups, arrest support etc.
How to mark the anniversary of Surrey CC declaring a climate emergency last July – possible action?
A critical mass bike ride in Godalming to keep the cycling issue high on the local agenda and build further bonds with other groups.
There is a day's action with other XR Surrey groups coming up on July 6th. Hopefully we will have details to share on Wednesday.
Wednesday 8 July – Still Heading for Extinction – The Climate Emergency in a post Covid world
This talk is a great way of introducing people outside Extinction Rebellion to why we do what we do. Please let people know of the talk. We want to spark the interest and commitment of people who are not yet members of XR. If you know of any groups of people who would be interested, then let us know via xrgodalming@gmail.com. Please pass on the information to people you know via our facebook page.
A new talk on 8th July hosted by XR Godalming
For nearly 2 years, Extinction Rebellion and others such as Greta Thunberg and David Attenborough have been striving to bring attention to the climate and ecological crisis. After the April 2019 uprising the UK Parliament declared a climate emergency. The October 2019 rebellion further increased public awareness and media attention. Still the Government has done little toward making the changes which are necessary to avoid disaster.
When the Covid pandemic struck, governments around the world suddenly found they COULD make changes to protect their people. They LISTENED to the science. Now we need the same urgency and discipline to be applied to the impending climate crisis which will bring far more damage and death to the world than Covid.
Still Heading for Extinction outlines what the science is telling us – that we are still heading for the world's 6th mass extinction – and what we can do about it.
This new talk will give an update about the current science on climate change and explore how what we have learned about ourselves and our real priorities during the Covid pandemic points us towards facing up to the climate crisis. Part of this is forcing those with power to take action.
Find out our how you can take action to make this happen.
Wednesday 15 July – we are going to screen the film 2040 via Zoom. The film envisages what the planet might be like in 2040 if currently available solutions to improve it are implemented.
Saturday July 18th – follow-up to de-escalation training.
Wednesday 22 July – regular meeting,
Topics for discussion – week-by-week agendas will be set for general meetings. Possible items for us to discuss at regular meetings include UKOG at Dunsfold, responses to Surrey County Council and Waverley Borough Council, improving cycling locally and the hemp project. If you would like to add any topics, please email xrgodalming@gmail.com.
ACTION TAKEN ON 25th JUNE
After weeks of limited activity, local XR groups came out of the shadows this week to take part in actions around the country, delivering letters to local MPs.
Chris explains the local action:
A combined group of Godalming and Farnham rebels took part in the action at Hindhead last Thursday. Led by our own inspiring and graceful 'Red Rebel' (watch the video and see if you can work our who it is) we processed in a slow, distanced walk from the Devil's Punchbowl down to Mr Hunt's office, where we delivered our letter – leaving a large version of it and some other posters stuck onto the window – and staged a reading of it to camera. It was a nice, simple but quietly powerful and we hope effective action, which those of us who participated in enjoyed. There were about 20 of us from the two groups. All agreed that it felt good to be on the streets together. It was great to renew some acquaintances in the XR Farnham group and make some new ones. Loads of people contributed different things in the preparation and delivery in a really good and creative team effort. It felt good to know that the same thing was happening at around a hundred other MPs' offices around the country. Looking forward to seeing what the local press makes of our action and our letter, and to our creative use of the picture of Mr Hunt wearing an XR badge!
This is the full transcript of the letter.
This is the excellent video of the action.
And here are some more photographs.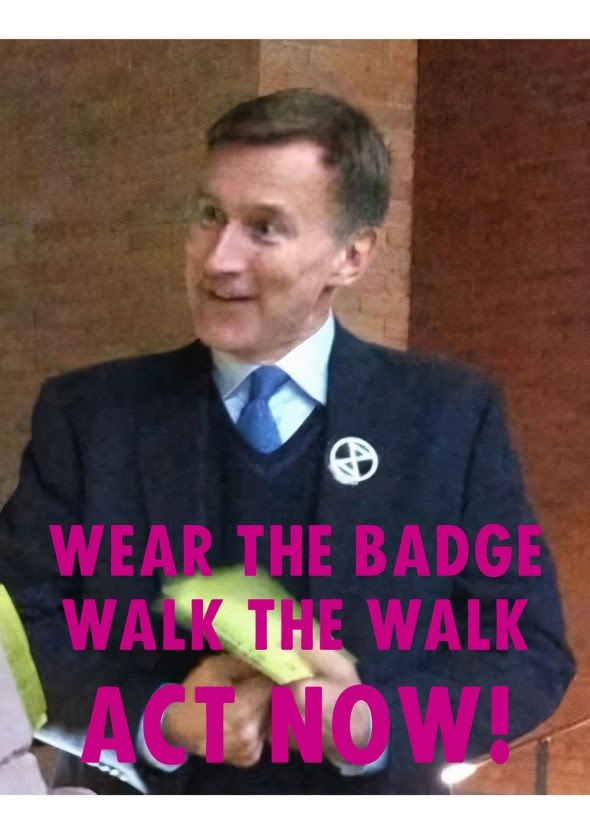 LAST WEEK'S MEETING
On Wednesday 24th June we had a regular meeting. At the check-in, most people were in fairly positive mood and feeling good about starting to take action, such as the recent cycling action. Others were looking forward to taking part in the following day's Hindhead action (see above). After the check-in Duncan explained how rebel ringing can be used to generate more interest among people in Extinction Rebellion. If you would like to take part in contacting people about who we are and what we do, please contact Duncan via Telegram, or email xrgodalming@gmail.com.
During the second half of the session Louisa led a discussion on a proposed fourth demand, which she has summarised as follows: in response to a request from XR South-East, we briefly discussed the proposal for our region to add a fourth demand, as various other groups have done (notably XR US but more locally Shoreham and Southampton). Although this idea has been brought to the fore by the recent Black Lives Matter protests, it has been circulating and causing some tension within XR for some time. Among the eight people who attended the meeting there were a wide variety of views and all felt it important that we discuss this in more detail soon, preferably with more of our members.
Whatever your current level of involvement with XR, we'd love you to be part of the discussion so that we can be as representative as possible regarding this crucial decision. Please watch this space for a date, or let us know your ideas by emailing xrgodalming@gmail.com.
HEMPTANK TALK
Last Thursday Alain arranged the latest in our series of talks, which Duncan has reviewed. If you missed it you can catch up via the recording now available on YouTube.
On Thursday, Guy Coxall, the director of the UK Hemp think-tank 'HempTank' gave a talk about the history and potential significance of hemp. Hemp used to be grown widely, before pharmaceutical companies and others worked to ban it. The companies did so to protect profits, and others owing to confusion between hemp and cannabis (the latter is psychoactive). Hemp has enormous potential, with uses ranging from hempcrete (excellent heat and noise insulation), to batteries (cheaper to produce hemp graphene) to productivity and nutrition (1 acre produces 300 gallons of oil, and protein powder). What stands in the way from this becoming a widespread crop? Changing the law so that it distinguishes between cannabis (the drug) and hemp, which has no psychoactive component. To find out more and to get involved, go to HempTank's website.
WAVERLEY BOROUGH COUNCIL CLIMATE AND SUSTAINABILITY PLAN
Chris reports that the group working on our submission to Waverley about this are planning to complete what they are doing this week. This is one of a number of projects which have been going on in the background, less visible than the photogenic actions, and often involving people who we don't see so often at our meetings but are nevertheless working really hard on our behalf on important projects like this. Not only doesn't this particular project give us an opportunity to have a real say in how our local council is addressing the climate emergency, but it's also a way in which we are developing contacts and relationships with policy-makers as well as enhancing our reputation as activists who are not only passionate, but serious, gown-up and dedicated. So, a big THANKS to those involved.

BREAKING DRAMATIC NEWS
Those on Telegram will not have missed the vote by the Planning and Regulatory Committee at Surrey CC on the UKOG drilling application. Among scenes of apparent confusion, the application was refused by 6 votes to 5. This is obviously cause for celebration, but also caution. UKOG are unlikely to take no for an answer and will no doubt come back with an amended application, so we need to remain vigilant. Drill or Drop has a summary of what happened.
HELP WANTED
There is an important role coming up for someone who can commit some time to looking after a simple financial spreadsheet, recording payments into a bank account and making some orders for everyday materials online, plus attending the occasional meeting. It would really suit someone who doesn't mind some solitary admin but would like to make a really valuable, but no-risk contribution to an important XR Surrey action. Please contact Chris asap if you can help.
Look forward to seeing you on Wednesday or soon.
With hope and determination.
XR Godalming